The people who work for a company can make or break it. Your HR team probably spent a lot of time and money to find the best people to work for you. So, it's not too much to hope that these highly qualified employees will continue to contribute to the long-term success of the organisation.
Here's the bad news. Skills and experience don't always mean that an employee will do a great job. To keep up a high level of employee performance, the workplace culture and how engaged employees are are very important.
Employees who aren't interested in their work will only do the bare minimum to complete their responsibilities. Also, the mix of beliefs, values, and rituals that make up workplace culture affects how engaged employees are and, in the end, how well they do their jobs.
5 Steps to Increase Employee Engagement and Improve Performance
A lot of what motivates an employee to work harder is how the job is set up, how the employee is recognised, and what kind of growth opportunities are available within the organisation. Effective employee engagement is built on all three of these factors. On the other hand, hygiene factors have to do with work conditions, company policies, professional relationships within the organisation, and how employees are paid. These are all important things to think about when trying to create a strong and positive workplace culture.
To take employee performance to the next level, you really need to start with positive workplace culture. But a strong employee engagement strategy should come from having the right culture at work.
So, it would be silly to talk about ways to improve employee performance without talking about both employee engagement and the culture of the workplace. Hygiene factors are like cards stacked on top of each other. They are the base on which a successful employee engagement strategy is built.
Motivating employees is at the heart of a lot of the things that are done to get them more engaged. Several things can affect how motivated an employee is. Here are a few steps to get employees more willing to engage in their jobs.
Step 1 – Assign Everyone Their Appropriate Role
Again, ensure that the proper employees are on the bus and that they have the right roles. This implies that all talent acquisition and retention initiatives must be linked with achieving the organization's objectives.
Step 2 – Provide Training
No manager or leader can develop a culture of trust and responsibility, much alone increasing engagement if the team is not set up for success. This involves giving the appropriate training and growth, as well as eliminating any obstacles.
Step 3 – Task Meaningful Work
Engaged employees do meaningful work and have a clear awareness of how they contribute to the mission, purpose, and strategic goals of the organisation. Again, this is why they must first be assigned the appropriate position. 
Step 4 – Check in Often
The days of offering feedback just via mid-year evaluations are long gone. The modern workforce demands frequent feedback, which leads to faster course correction and waste reduction. Utilize both formal and casual check-in strategies every week.
Step 5 – Discuss Engagement Regularly
Successful managers are upfront in their approach to increasing employee engagement; they discuss it often with their teams. They conduct "state of engagement" meetings and "engage" all employees in the conversation — and solutions.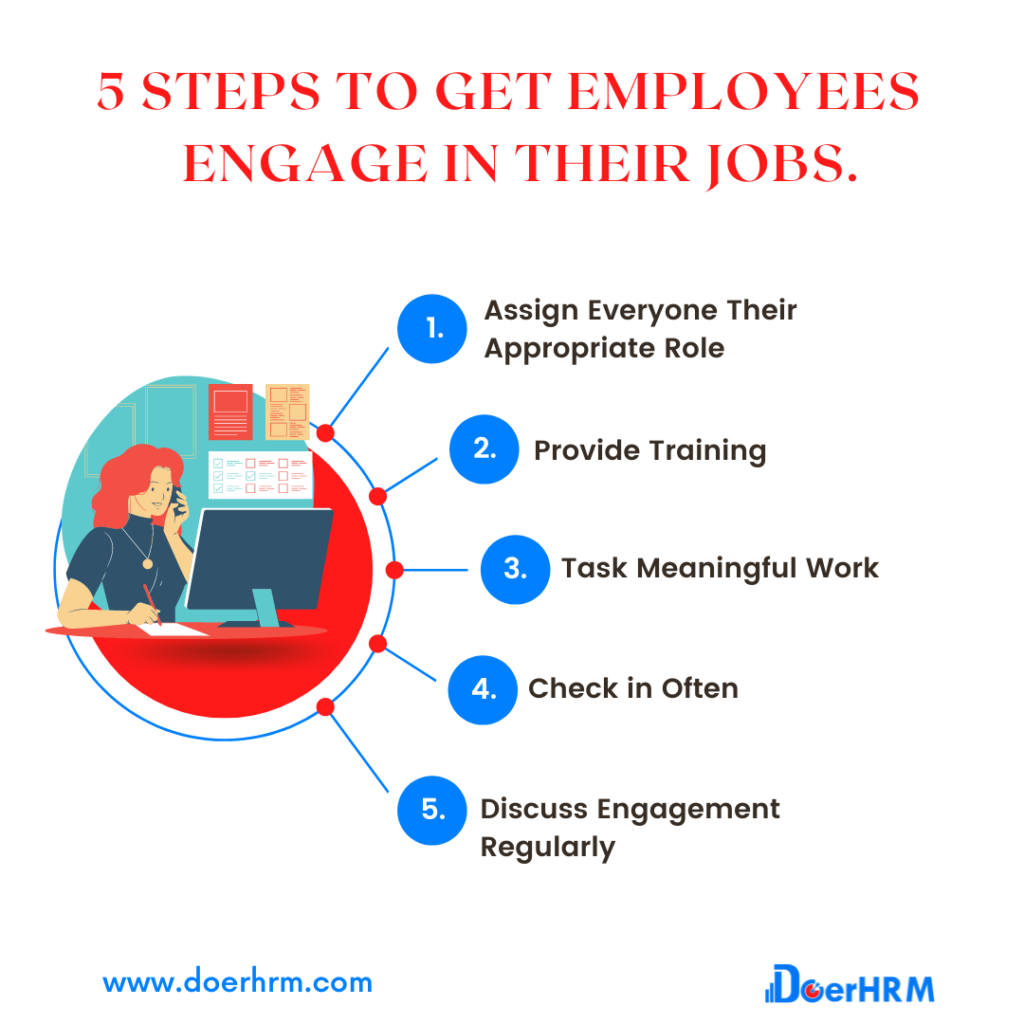 Your business will only do well if your employees always do their best work. Continuous training and development should be done so that employees feel like their growth is important to the company. When training and development programmes focus on each employee's training and growth needs and how they fit into the organization's overall needs, engagement goes up and the company culture gets better.
But improving the performance of employees doesn't end there. Your company should invest in software for employee engagement and use it to keep track of how engaged employees are. With the help of this software's metrics, managers will be able to make decisions based on data that will improve employee engagement.
Lastly, a positive workplace culture should help improve employee engagement. This kind of culture can be created by:
Using feedback from employees

Fair compensation

Clear, consistent communication

Collaboration

Transparency
These concepts are not difficult, but they must be prioritised. Companies that master this will generate larger financial returns, outperform their competitors, and quickly go to the top of lists of the greatest places to work!