Hiring the best people on the market can give your business the skills it needs to be successful, but it's not the only thing you need to do. To run a successful business, you need employees who start strong and stay strong, so they don't burn out or begin to dislike the company. That's why managing performance is so important.
Even so, performance management is still not as important as it should be in the workplace today.
Performance management is a set of practices that help employees reach their full potential and be happier at work. Traditional performance management is still around in some companies, usually in the form of an annual review, a board meeting every three months, or a ranking scale.
Traditional tools for managing performance are still useful, but they don't work as well as they used to if they aren't used with tools that are more personal and ongoing. Because of this, companies are moving away from traditional tools and toward other ways to manage performance. But some companies are still having trouble finding the right fit. This isn't meant to be a quick fix, but it's important for companies to use more modern tools for managing employee performance in order to improve their relationship with their employees.
Keeping this in mind, here are 5 new ways to manage performance that you can start using in your company: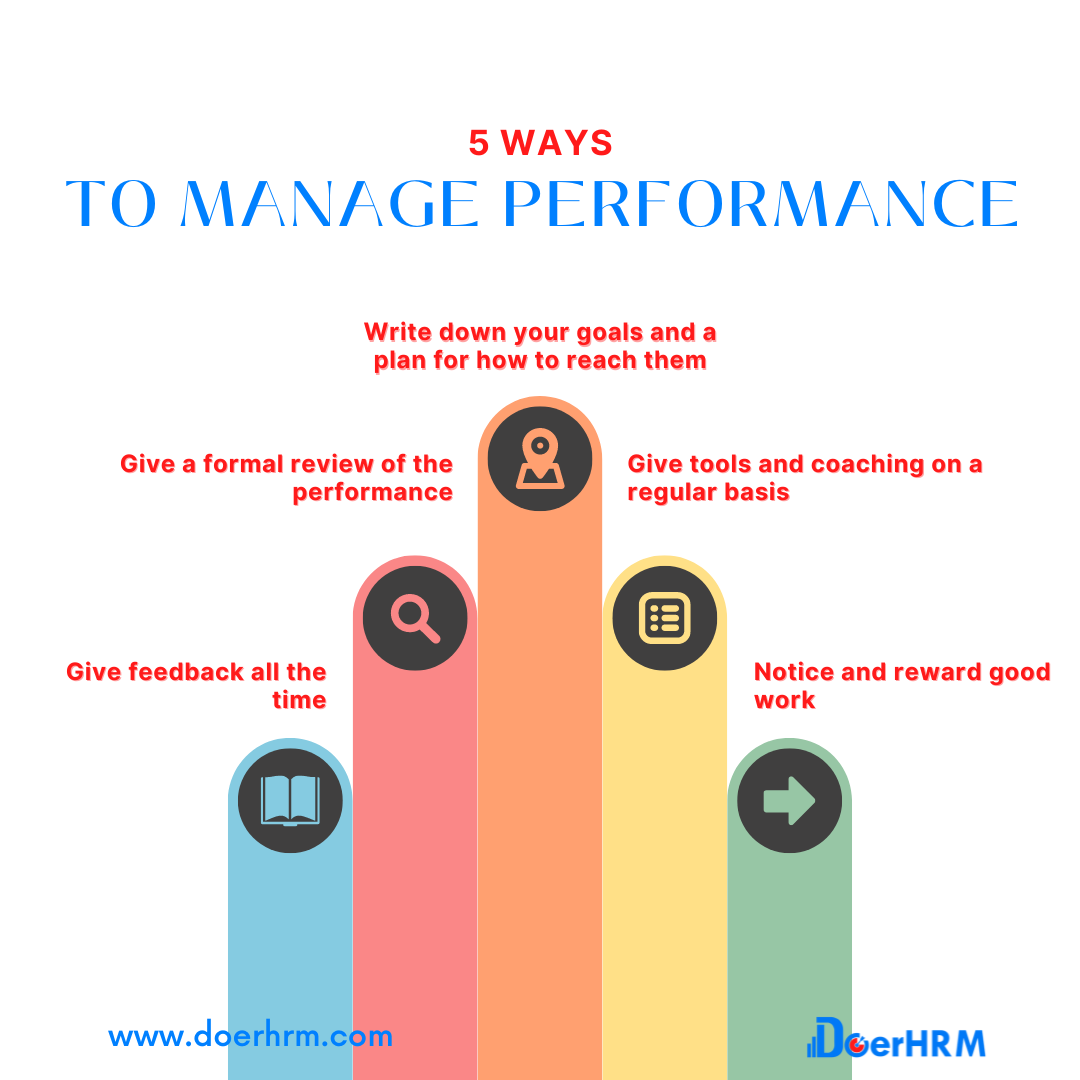 Write down your goals and a plan for how to reach them
Tell your employees what you expect from them and give them things they can do to meet those expectations. The best way to make sure your employees are interested and doing their best work is to give them goals that they can reach. This is also a good time to hear what your employees are worried about. Once you have set goals, document your plan for future reference. This is a record of the goals that were agreed upon, and it will help if you ever want to do a performance review with them. No employee will do their best work if they don't have the right guidelines or parameters.
Give tools and coaching on a regular basis
The best employee isn't always the one who knows everything, but the one who is willing to learn the tools and skills quickly. Make sure you give your employees the tools, time, and training they need to do their jobs well. When an employee has the right tools and coaching, they can do a good job on the task you've given them, and you can be sure that their work will meet your standards. Employees are usually happier at work when they know their company cares about them. If an employee feels like they aren't getting the help they need from their company, they probably won't stay there for long.
Give a formal review of the performance
You probably do some kind of performance review already, like an annual or quarterly review, a rating scale, or a forced ranking. As time goes on, there are more problems with these kinds of reviews than good things. If you use these kinds of reviews, it's likely that your company needs to change so it doesn't fall behind and your employees don't get unhappy.
Here is one of the modern ways to make performance reviews more useful:
In the 1970s, Andrew Grove came up with the OKR system. He set up the system so that it would focus on the work of each employee instead of the work of all the employees as a whole. Now, companies can manage their OKRs with an online platform. DoerHRM has powerful features, such as the easy-to-use OKR Management, that can help you improve your business, motivate your employees, and do more than you ever thought possible.
Give feedback all the time
Companies are changing their feedback systems to provide a more continuous stream of evaluations in addition to formal reviews of employee performance. This means one-on-one meetings or general feedback on products or methods right away. Opening the door to feedback all the time takes the pressure off of annual reviews and makes it easier for your employees to learn. This also lets you make sure your workers meet the goals they agreed to. A study shows that companies that give feedback all the time have a 15% lower rate of employee turnover.
Notice and reward good work
Even if you give your employees feedback all the time, it won't matter if you don't notice their hard work. Reviews are meant to show where employees can improve, but they are also used to praise them when they do a great job of reaching their goals. When you do performance reviews and only talk about the bad things, your employees might feel unappreciated and angry. Having a way to recognise and reward good work can be very helpful for your employees and, by extension, for you. Give them a place to comment on their own and others' work, and they will feel like they are valued.
Putting these changes into place is neither easy nor quick. It needs everyone in your company to work hard and work together all the time. Modern performance management tools, on the other hand, make it easier for you and your employees to be open and trust each other. This can make it easier to keep employees and make them happier and more engaged.