How do company measurements result in more efficient daily operations? The answer is in gathering the appropriate data and utilising it to develop and improve business procedures.
An operations manager's responsibilities include employee supervision and guidance, as well as administrative activities such as measuring the performance of corporate operations. In an operations management position, you may be required to measure and track key company KPIs such as financial and production activity.
If you're new to management, performance metrics will help you drive initiatives and lead your team to success. In this article, we will go over some of the most critical metrics for operations managers to monitor in order to track your team's progress and perform effectively in your profession.
What precisely are business performance metrics?
Business performance metrics include a variety of indicators that provide information on the overall performance and productivity of an organisation's activities.
Metrics for particular operations such as financial reporting, marketing activities, and employee productivity are planned for by businesses. Metrics enable businesses and organisations to assess how effectively they are operating over time.
What are the benefits of business performance metrics for operations managers?
Operations managers supervise complete departmental or business operations and rely on data from key metrics tracking to inform how they should proceed in their management methods. 
The metrics that operations managers monitor assist them identify which procedures are successful and which are insufficiently effective to benefit their companies. 
This is critical for establishing attainable goals and implementing revenue-growth plans. Consider the following additional reasons why company performance indicators are important:
Allows managers to measure staff productivity and provide assistance for improvement as needed.

Provides quantitative data and insight to managers on many elements of business operations such as financial metrics such as revenue and profit.

Allows managers to measure risk and implement risk-mitigation strategies in order to achieve goals.
Related: 5 Reasons Why Key Performance Indicators (KPIs) Are Important
What are the most critical KPIs for operations managers to monitor?
The regular reporting and assessment of key business KPIs is essential to the success of your organisation. Total revenue, net profit, profit margin, and loss are the apparent and most crucial business measures for operations managers. But these are only a few of the financial indicators that smart business owners should monitor.
There are a number of important business performance measures you should think about including in your data arsenal, regardless of the size or unique aims of your organisation.
Operations managers often track five major sets of key performance indicators (KPIs) that help them evaluate the success of a variety of activities throughout their organisations:
Marketing

Compliance

Customer needs
What are the most crucial business performance indicators to monitor?
Let's take a look at it!
Financial metrics
Financial metrics are critical for operations managers to monitor since they allow managers to assess their organisations' overall profitability. There are an infinite number of critical business measures you may apply to your company's finances. As a starting point, we propose concentrating on the following critical financial metrics:
Revenue: Revenue is the entire amount an organisation generates from conducting business. Revenue measurement is essential for determining gross and net earnings, and operations managers may track revenue weekly or quarterly.
Operational costs: These are all the expenses that are directly related to the operation of a business. Materials, labour, and overhead are examples of operational expenditures that must be closely monitored.
Gross margin: Gross margin is the difference between the revenue generated from sales and the cost of goods sold. Operations managers may use gross margin to assess their organisation's profitability and identify areas for improvement.
Cash flow: Cash flow measures the movement of cash in and out of an organisation over a specific period. Operations managers should monitor cash flow to ensure that their organisation has sufficient funds to cover expenses and invest in growth opportunities.
Return on investment (ROI): ROI measures the return on investment for a specific project or initiative. Operations managers may use ROI to determine whether an investment was worthwhile and identify areas for improvement in future projects.
Related: Financial KPIs That Managers Need To Monitor
Marketing metrics and strategy
Marketing and advertising analytics enable businesses to assess how successfully certain marketing and advertising initiatives are performing to acquire new clients.
Marketing and advertising can also incorporate digital means, and businesses that operate online may analyse extra indicators to determine how effective marketing efforts are. The major performance measures listed below can give insight into various marketing activities:
Return on advertising: Return on advertising is a measure that analyses the revenue generated by firms in relation to the amount spent on marketing and advertising activities. Businesses may use this measure to understand where to minimise expenses and strategy more effectively whether they spend more or as much as they make from advertising and marketing initiatives.
Conversion rates: Conversion rates are incredibly important for measuring the performance of advertising and marketing operations that attract clients when businesses operate online. Potential consumers convert to acquisitions when they notice an online advertisement for a product or service and either buy or sign up for the offering. The rate at which a business converts visitors to paying customers can provide information about how effective specific internet strategies are.
Customer acquisition cost (CAC): CAC is the amount of money a business spends to acquire a new customer. Operations managers may use CAC to assess the cost-effectiveness of their marketing initiatives and identify areas for improvement.
Customer lifetime value (CLV): CLV measures the amount of revenue a customer is expected to generate over the lifetime of their relationship with an organisation. Operations managers may use CLV to determine the long-term value of acquiring new customers and identify ways to improve customer retention.
Related: How To Create A Marketing KPI Dashboard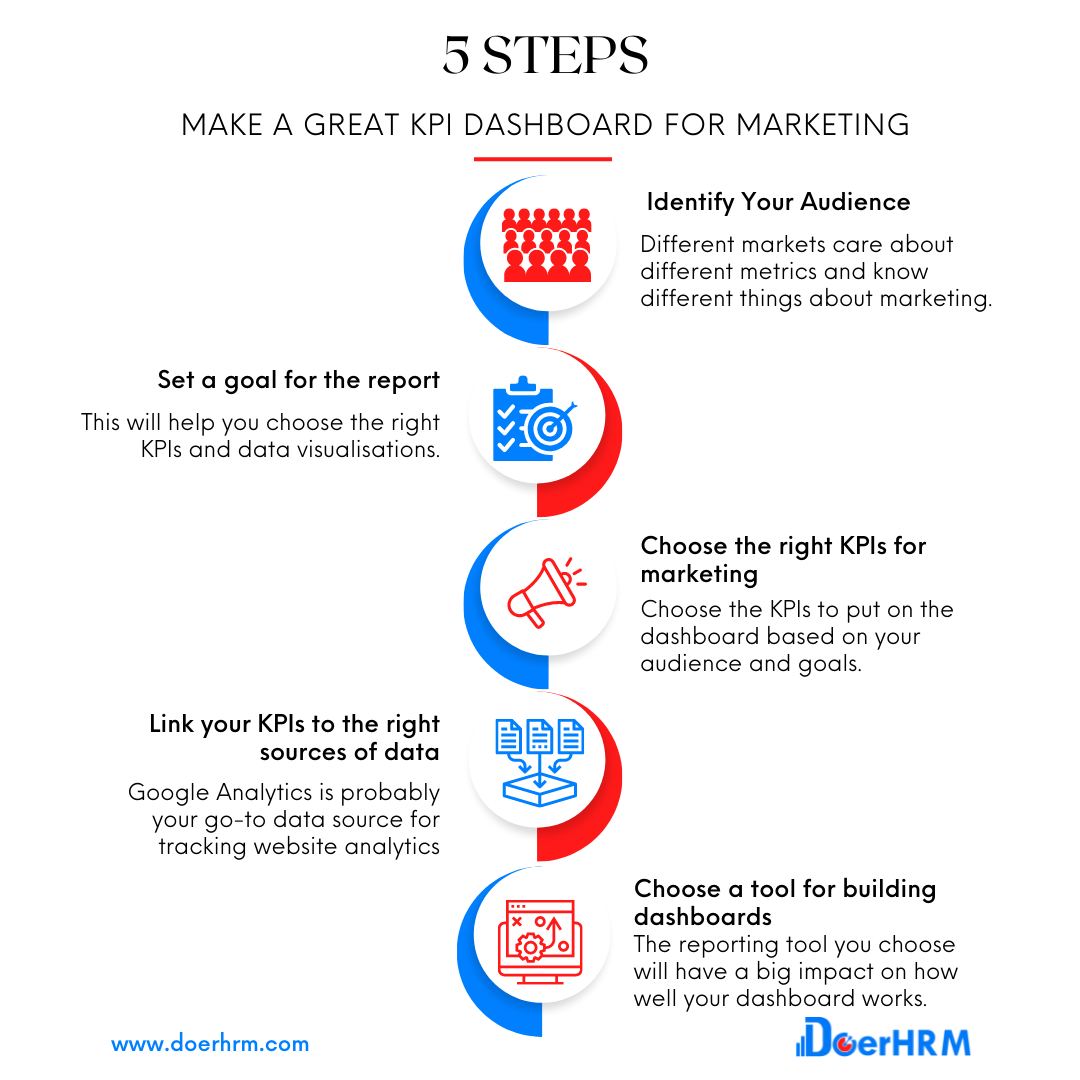 Employee performance metrics
Employee performance metrics are another key set of data for operations managers to monitor. A manager's responsibility includes evaluating employee performance and productivity and assisting employees in making changes, training for promotion, and expanding their talents. Several significant KPIs that operations managers frequently monitor:
Productivity: Productivity refers to an employee's ability to manage their time efficiently in order to finish projects and assignments. This can assist management in identifying and implementing process improvements if productivity needs to be improved, or in implementing extra targets if employees surpass job goals. To measure productivity, operations managers may track the amount of work completed by employees, the amount of time it takes to complete a particular task, or the number of goals achieved. By identifying the most productive employees and comparing their output to less productive employees, operations managers can develop strategies to increase productivity.
Quality of work: The standard that employees keep when accomplishing their jobs is represented by quality of work. It's a subjective statistic that managers usually establish as individual goals to provide insight into the quality of their employees' work.

To measure quality of work, operations managers may evaluate the accuracy of an employee's work, the attention to detail they exhibit, and the consistency of their output. By setting quality standards and monitoring employee performance against these standards, operations managers can ensure that their employees meet the company's quality requirements.
Related: 5 Employee Performance Metrics You Must Monitor





Compliance metrics
Many businesses establish compliance plans that outline how they conduct operations to control and minimise risks, including financial, operational, and safety concerns. The metrics listed below are critical for alerting operations managers to issues and their causes:
Policy compliance: Businesses monitor employees' performance and behaviour on the job to verify that procedures are in accordance with financial, legal, and company-wide rules. To measure policy compliance, operations managers may track employee adherence to company policies and procedures, such as those relating to safety, security, and data protection. By monitoring compliance, operations managers can identify areas where employees may require additional training or where policies and procedures may need to be updated.
Safety compliance: Operations managers must also monitor and enforce safe workplace behaviour and performance. Measuring employees' comprehension of safety metrics might include things like appropriately handling equipment and keeping a clear workplace free of safety concerns. To measure safety compliance, operations managers may track safety incidents, workplace accidents, and employee safety training. By promoting safety compliance and identifying areas where safety incidents are most likely to occur, operations managers can take steps to improve safety standards and minimise workplace risks.
Related: Tips To Streamline KPI In The Workplace
Customer-centric metrics
Customers produce revenue, which increases the profitability of a business. Operations managers frequently monitor metrics that provide information on critical parts of client interactions, such as:
Customer acquisition rate: The customer acquisition rate can provide operations managers with information about the proportion of customers they attract against visitors who do not make a transaction. If a company generates a lot of leads but only a small percentage of those leads become paying customers, operations managers can apply measures to enhance this metric. To measure customer acquisition rate, operations managers may track the number of visitors to the company's website, social media platforms, or physical locations. By identifying the sources of customer traffic and analysing conversion rates, operations managers can develop strategies to improve customer acquisition rates and boost revenue.
Customer retention: Customer retention shows businesses how well their goods are functioning in terms of keeping repeat consumers engaged and interested in new offerings. High rates of client retention imply excellent customer interactions, which increases total revenue.

To measure customer retention, operations managers may track customer loyalty, repeat purchases, and customer feedback. By engaging with customers and building relationships, operations managers can increase customer retention rates and drive repeat business.
Related: Top 10 Customer Service KPIs That Will Help Your Support Teams Succeed
How KPI & OKR Software helps operation managers?
As an operations manager, you are responsible for ensuring the smooth functioning of your organisation's daily activities. To achieve this, you must have a clear understanding of the company's goals, track its progress, and make adjustments as necessary. DoerHRM is a powerful tool that can help you monitor and achieve your organization's goals. And with the help of DoerHRM, you can simplify the process of tracking these metrics.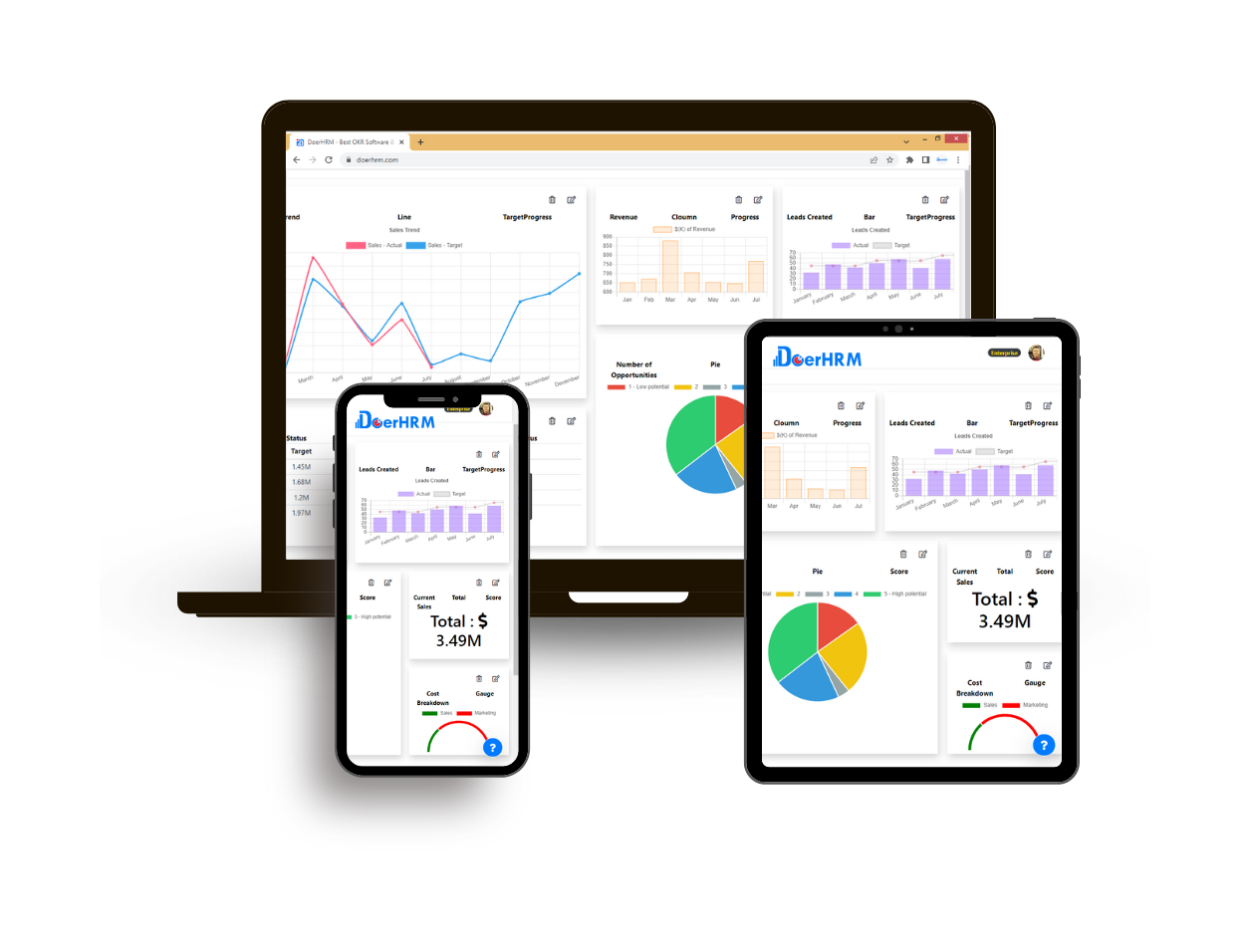 KPIs are measurable values that demonstrate how effectively an organisation is achieving its key business objectives. These metrics are typically associated with the organisation's financial performance, employee productivity, customer satisfaction, and compliance standards. KPIs are valuable for operations managers because they provide real-time information on the organisation's performance, enabling managers to make informed decisions.
OKRs, on the other hand, are a more strategic approach to goal setting. They are designed to align an organisation's efforts towards a shared set of objectives. OKRs consist of an objective, which is a high-level goal, and one or more key results, which are measurable outcomes that indicate progress towards the objective. By setting OKRs, an organisation can ensure that every department and employee is working towards a common goal.
The benefits of using DoerHRM software for operations managers are numerous.
Help you to identify the key metrics that matter most to your organisation. This enables you to focus your efforts on the areas that are most important for achieving your business goals.
 Make it easy to track and visualise your organisation's progress towards its objectives. This provides you with the information you need to make informed decisions and adjust your strategy as needed.
Can help you to automate the process of tracking metrics. Rather than manually collecting data from various sources, these tools can integrate with your organization's existing systems to provide real-time updates on your KPIs and OKRs. This saves you time and reduces the risk of errors associated with manual data entry.
If you are an operations manager looking to streamline your performance tracking and achieve your organization's goals more effectively, consider using DoerHRM software. With a wide range of tools available on the market, you can find a solution that is tailored to your organisation's needs. And with most software providers offering a free trial period, you can try these tools for yourself and see the benefits they can bring to your organisation.
So why not take advantage of a free trial of DoerHRM software today? With a range of features designed to simplify the tracking and monitoring of your organization's performance, you can save time, reduce errors, and achieve your business goals more efficiently.
It's a proven truth that examining business performance measures may lead to improved operations. Your goal as a business owner or executive is to maximise profit.
Having the correct financial and business performance indicators in place gives you a continuous flow of data that you can use to measure operational efficiency and boost success.
While generating these measurements might be difficult, the favourable conclusion is well worth the effort.
Use this framework to design a unique reporting structure for your company. Your business will prosper if you are consistent and execute well.